Are you looking for details about the Reliance Smart Bazaar Return, Refund & Exchange Policy? It's always good to know details about the latest Return policy of Reliance Retails Ltd, new store "Reliance Smart Bazaar". Currently, this hypermarket is operational in more than 200 locations in India.
What is Smart Bazaar Return Policy?
The Return policy of all the Reliance Smart Bazaar stores is customer friendly & very simple. This return policy enables to you return the products at the store easily & quickly.
| | |
| --- | --- |
| Reliance Smart Bazaar Return Policy | Details |
| Store Name | Smart Bazaar |
| Type | Hyper Retail Store |
| Owner | Reliance Retail Ltd. |
| Accepts Return | Yes |
| Accepts Refund | Yes |
| Exchange Policy | Yes |
| No. of Retail Stores | More than 200 |
Smart Bazaar store's standard return policy offers you 14 days to bring back an item. These standard product return policies are valid across the stores located near you. Their timeline for products return is valid for all the shopping which you have done from their supermarket stores or hypermarket stores.
How To Return an Item You Bought in a Smart Bazaar Store?
Through this return policy, you can easily return the product which you have bought from their retail stores. Just take the item back to the store & approach the Customer Service Desk. A Customer service desk is located mostly at the entrance of the store. Below are the documents which you required to return a product.
Smart Bazaar Return Policy 2023 Details
The first main point is that you should visit the store with the product if you wish to return the product. Apart from visiting the retail store below are the details about the return policy.
Terms & Conditions of the Smart Bazaar Return, Exchange & Refund Policy
These are the basic & general terms & conditions which you need to fulfill if initiating a return or refund.
An original Invoice or Bill as proof of purchase is required,
Products purchased in pairs must be accompanied by original condition,
All returned products must be in original packaging,
No alteration or edit in the products,
Products must be in resalable condition,
All Products related documents must be returned with the product,
What is Reliance Smart Bazaar Refund Policy?
In any case, we have done shopping for products that we later thought were not required. So how can we get a refund for that product? Is it possible to get a cash refund from Reliance Smart Bazaar retail store?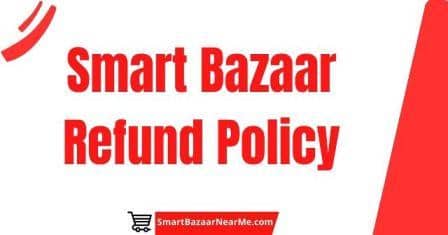 Technically No, Reliance Smart Bazaar doesn't offer Cash refunds.
Alternatively, they offer Credit note exchange. The credit note is similar to cash, which is deposited to your mobile wallet in a Rone card account.
What are Smart Bazaar Return Timings?
Typically you can return the products at any time during operational hours. The store timings of the store are given below for your reference. Follow the store timings & initiate a return at the store.
| | |
| --- | --- |
| Smart Bazaar Return Timings | Details |
| Monday to Sunday | 10 AM to 9 PM |
What is the Time of Smart Bazaar Clothes Exchange Policy 2023?
Fashion Apparel is a very popular section in the store after grocery items. Their fashion & apparel are very valuable in terms of price & durability. There might be chances when we do shopping for clothes but may want to exchange due for various reasons.
The Smart Bazaar Clothes Exchange policy enables you to exchange clothes within a timeframe of 14 Days. During this period you may exchange the apparel or clothes products without any hassle.
What is the Product return time for Return, Refund & Exchange?
Below is the time matrix for exchange, refund & return for the purchases made at any Smart Bazaar store. Follow the time period & get your products returned at the nearest grocery store.
| | | |
| --- | --- | --- |
| Type | Time Period for Return | Products |
| Refund | 1 Day | Dairy Products |
| Refund | 1 Day | Eggs/Fruits/Vegetables |
| Return | 3 Day | Non Food Products |
| Return | 3 Day | Packaged Food Products |
| Exchange | 14 Days | Ladies Apparel |
| Exchange | 14 Days | Kids Apparel |
| Exchange | 14 Days | Men's Apparel |
| Exchange | 14 Days | Footwear |
| Return | 14 Days | Kitchen Items |
| Refund | 14 Days | Wrong Product |
| Refund | 14 Days | Wrong Offer Applied |
| Refund | 14 Days | Defected or Damage |
What is the process of Product Return?
Follow the below simple process to return the product at the retail store. All smart bazaar stores accept the products retund as per their policy.
Do I Need a Receipt To Make a Return?
How to exchange at Reliance Smart Bazaar Without a bill?
For all the returns, refunds & exchanges they required valid proof of purchase. Although they don't accept any return without the original bill or invoice, ask them to help if you don't have one.
3 Tips for Quick & Easy Return
For quick & easy returns follow the below given 3 tips. If you follow these tips, return & refund will be easy for your & you may get it quickly.
How to Register a Complaint Related to Return, Exchange & Refund?
At any point during the denial of services for the return, you may reach customer care. The customer care services details are printed on the invoice. You may find additional details here regarding how to register a complaint at Smart Bazaar stores.
Call the customer care number printed on the invoice.
Call the Customer care number at 091-2222785000.
Email your concern or complaint to Care@relicustomerservice@ril.com
FAQ
What is Smart Bazaar's refund policy?
You can easily refund a product at smart bazaar stores by visiting the store along with the product & original invoice.
How to get a duplicate bill for a return at Smart Bazaar stores?
Reach the customer service desk & ask for a duplicate bill for return.
Do they allow an exchange for clothes?
Yes, you can exchange your clothes.
Final Thoughts
Learning the details of Reliance Smart Bazaar Return Policy should help you be more confident. Moreover now you know it's an easy & hassle-free process when it comes to returning or exchanging products at the Smart Bazaar retail stores.