Hello friends, today we will give you the latest information about Reliance Smart Bazar Moga. If you want to know all the details about this new Reliance grocery store then you are most welcome. Today we will tell about this new hypermarket which opened on 4th March 2023 in Moga. You can also take advantage of its service and do your monthly grocery shopping from here.
Store Details; Smart Bazaar Moga
Moga is a city located in Punja. Reliance Retail, which is a leading retail grocery company in India, has opened its very best store here. Earlier, people here had to go to the nearest city to do their monthly grocery shopping or had to order goods online. However, there is another Reliance Smart Point store here which is a neighborhood store that sells grocery and essential items.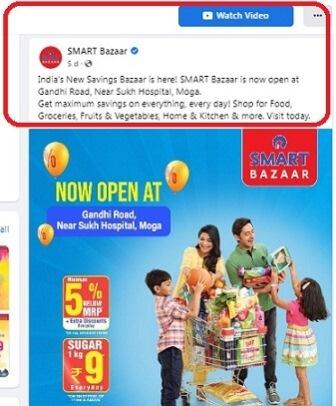 As per their official Facebook page, the store is open to the public. Above is the screenshot from their post. Today we will let you know about this new store so that you can do your shopping easily.
Address Details of Reliance Smart Bazaar Moga
Below are the details about the new store & the nearby landmark details.
| | |
| --- | --- |
| Reliance Smart Bazaar Address | Bansal Complex, Gandhi Road, Near Union Bank, Hardev Nagar, Moga, Punjab 142001 |
| City | Moga |
| State | Punjab |
| Pin Code | 142001 |
| Plus Code | R5C7+V9 Moga, Punjab |
| Maps Location | https://goo.gl/maps/2iaZaGa3WHgksWLj9 |
Parking Details:
This store provides you with free parking services. You can park your vehicle without worrying about it. All of the hypermarket stores of Reliance Retail offer Free Parking services.
How to Reach the New Store?
If you want to go shopping in this store, then you can take the help of Google Maps given below. Apart from this, we have also given information about its nearest bus stand & railway station.
Contact Details of the Grocery Store
What is the phone number for this new grocery store? How can we contact this hypermarket? This question may come to your mind, below we have given its customer care number and its contact details.
| | |
| --- | --- |
| Contact Details | Smart Bazaar in Moga |
| Phone Number | 18008910001 |
| Customer Care Number | 1800-89100-01 |
| Email Address | |
What is the Product offered by Smart Bazaar in Moga?
If you are planning your shopping, then it is very important to know what is available here. As it is a new store which is huge, it has everything to offer. You will find groceries, food, spices, clothing, kitchen items, luggage, and stationery items in Smart Bazaar stores.
Below is the complete list of products that they are offering in the Moga Smart Bazaar Store.
Reliance Smart Bazaar Moga Timings; Today & Tomorrow
Before going into the store, it is good to know its opening and closing time. This store remains open 24*7 days. Its daily opening and closing time is given in the table below.
The store opens at 7 AM daily in the morning. It remains open for 15 hours a day to serve its customer in the best possible way.
It closes at 10 PM late at night. Always follow the below opening & closing times for the grocery store of Moga.
| | | |
| --- | --- | --- |
| Reliance Smart Bazaar | Moga Opening Time | Moga Closing Time |
| Monday | 07:00 AM | 10:00 PM |
| Tuesday | 07:00 AM | 10:00 PM |
| Wednesday | 07:00 AM | 10:00 PM |
| Thursday | 07:00 AM | 10:00 PM |
| Friday | 07:00 AM | 10:00 PM |
| Saturday | 07:00 AM | 10:00 PM |
| Sunday | 07:00 AM | 10:00 PM |
Offers at Smart Bazaar Moga Today
Below are the main offers at the new grocery store. As per the new promotion offer, they are offering the below offers to its valuable customers.
Sugar @ 9 Rs/Kg– They offer 9 Rs. Sugar on shopping of Rs.1499. This offer is valid for all its customers & they don't require any membership card for shopping in the store.
Buy 1 Get 1 Free– Here you will get a Buy One Get One Free offer with more than 2000 products. You will also get grocery items, Tea, Coffee, Shampoo, Deodorant, Baby Diapers, Namkeen & Juices in this offer.
Flat 10% Off on Kitchen Items & Houseware Products– As per their standard offer they offer a minimum of 10% off on all Kitchen items & houseware products.
FAQ
What is the Smart Bazaar Moga Launch Date?
The store launch date is 4th March 2023.
Where is the Smart Bazaar Reliance store located in Moga city?
It's located at; Bansal Complex, Gandhi Road, Near Union Bank, Hardev Nagar, Moga, Punjab 142001
Conclusion; This new store in Moga city has given access to the World class retail experience to the customers. There was no presence of any organized retailer like; Big Bazaar, Dmart, or More Hyper.
Now people in the city & nearby locations can get a minimum 5% discount on grocery items & 10% discount on houseware items. Locate the nearest store in your city.